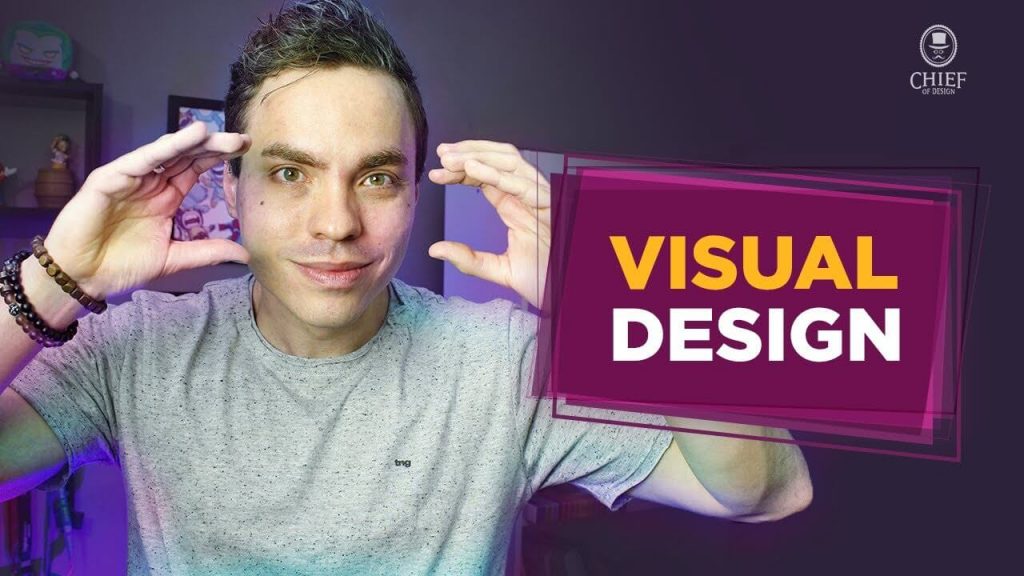 Eae, everything is fine?

In this article you will know what it is Design Visual. This term has gained strength recently among designers and it is not uncommon for you to find vacancies and professionals categorizing themselves under that name.
Outside of Brazil, I also see a lot of content that uses the term Visual Design to refer to a specific part of the design, although we know that design is not limited only to the aesthetic and visual part.
So let's understand in this content what Visual Design is, where it comes from, and the relationship to other areas of design.
And before we proceed with the article, I want to take the opportunity, since we're talking about Typography, to let you know that we're open for our Visual Design Fundamentals course. The Fundamentals of Visual Design course focuses on the fundamentals, concepts and principles of Visual Design.
In this course, along with the other fundamentals, you can delve even deeper into Typography. Click on the link below and learn about our course.
⭐️Visual Design Fundamentals Course⭐️
Learn more ➡ https://www.fundamentosdodesign.com.br
In this article you will learn:
O que é o Design Visual?
Visual Design or Visual Design is a branch of design that focuses on the study of visual communication. To do so, a good professional in the area will need to have expertise in the handling of graphic software (such as Adobe Photoshop, Adobe Ilustrator, Figma, among several others) but also, and mainly, should know the fundamentals of Visual Design, such as typography, colors, gestalt, grid, semiotics, among others.
It is noteworthy that there is no normative consensus on this area or term, in fact, if we stop to analyze, the term itself concerns the treatment of visual programming, therefore, a professional from other areas of design, such as the graphic design, could fit this as Visual Designer.

This is because both areas relate to visual communication and use visual elements such as signs, images, graphics, among other resources, which together, make up a project to communicate an idea and concept
Nevertheless, it is a systematized creation, where it is possible to observe a design project with the stages of planning, research, solutions, prototyping, etc.
Where does the term Visual Design come from?
Unlike other areas and terms of design, visual communication design is a terminology that does not have many studies on how and where it emerged, however, it is known that it is a new terminology that began to gain strength at the same time as UX and UI design, perhaps precisely to differentiate and segment the layers of design within a design of a digital product.
Basically the term itself concerns graphic design, only focused on digital products. It would be another step within a digital project, where we have several steps in the process.
Thus, in a summarized and practical way, this new term was, or is, an alternative for graphic designers to relocate or prospect new opportunities in the creative market, especially in the digital market.
It is important to emphasize that in addition to these meanings associated with the term, the expression itself can gain new meanings from the use and from those who use it, for example:
There are designers who use the term in order to show that they are designers specialized in visual and aesthetic design, while others use it to refer to a more comprehensive way, that is, that they can do graphic design, but also web design, and design and other things within the field of visual design.
From what I've seen, read and researched, I see that there is no consensus and each ends up using it with a different meaning.
Fundamentals of Visual Design
The Fundamentals of Design Visual are a set of essential knowledge for those who work with visual communication and that can be used in any segmentation of the design, such as on the web, etc.
Understanding this, you will need to learn about several things, since it is a multidisciplinary area. We can list some more techniques such as:
shapes;
textures;
composition;
grids,among others.
To learn about these subjects and improve your conceptual part, we have the Fundamentals of Visual Design course. In this course you will have classes that have provided you with an essential basis to work with Design. CLICK HERE TO LEARN MORE.
Importance of Visual Design for Business
THE Visual Design is a segment of design that can be applied in several areas. Therefore, thinking about the use for companies, its main contribution is a better visual composition of products, services and the identity of the company.
For this it is necessary to have a professional who helps to systematize, concatenate and adjust the visual elements for the purposes of the brand or product.
Manter uma estética agradável, uma identidade visual, e coerência visual é de extrema importância para qualquer negócio. Isso porque você consegue comunicar a ideia principal de uma empresa, e conectar, de forma natural, o público a sua marca.
Training in Visual Design?
If you were interested in the Design Visual, and is willing to follow this area professionally, you have two options: the first is to do a degree in the area, and the second is to specialize in this follow-up through courses offered online and offline.
There are few graduations that use the term Visual Design. So one way is to make a design college or graphic design course.
The other way, free courses, can be done either with or without college. Here you have the options of shorter and more direct courses, but without the same academic weight as the previous one. You can also go to college and then try to take a course focused on Visual Communication Design to specialize.
It is worth mentioning that opting for this alternative, the experience will be your main ally.
Video - What is Visual Design?
To complement the content of this article and explain in more detail certain parts, follow the video I recorded for my youtube channel about Visual Design. Watch below:
Final considerations
As we have seen throughout the content, Visual Design is nothing more than visual communication and this matter was already addressed by other areas of design long before the emergence or strengthening of this term.
Although it is not wrong to use the term Visual Design, you as a Designer should know that it is just more of a term that is used to categorize and even an attempt to value the work of a designer who works with visual programming.
Regardless of terms, names and new definitions that may arise, I think the most important thing is that you think about design more broadly and never sum up apanas design to the look, despite being an intrinsic and important part within a project.

Be a designer always keeping up to date and open to new knowledge, you will always have to study a lot about various subjects, since it is a multidisciplinary area.
And did you already know what Visual Design was? Do you have any comments or suspensions?
Leave below your comment or question.
Strong hug.
Until later.