Eae, everything is fine?
Surely one of the main questions that overlap over a designer's head is: how a designer does to register a brand? And as if that doubt were not enough, another one emerges that is: how can I guarantee my designer copyright on a project??
This is because you designer can register a brand of a customer, for example, but still do not guarantee their copyright before the project. The trademark registration will guarantee the client side, but what about your side?
So, to ask questions about this subject, we will see below how you can do both: register your client's brand and guarantee your intellectual rights of the project.
And you will see how to guarantee your right of designer about art, in a few minutes and investing only R $ 19.90 through the international system of Avctoris copyright registration.
Below we will understand what procedures you can take to avoid problems in the future, both in trademark registration and copyright. Are we going to do this?
Why does the Designer register a trademark?
Registering a brand is not luxury but a necessity.
To register a trademark is to protect the identity of your company, or that of your client, people and companies in bad faith, competitors who may want to use your idea and new companies that may have and use, sometimes without knowledge of the existence of your company, the same idea.
This is because if your trademark is not registered and regulated within the current legislation, other people or companies may register your brand or the elements that make up the identity of your brand, such as: symbols, logos, slogans, names, colors, pets and even jingles.
And it doesn't matter if you've used such elements in your company's communication for years. By the time you run after and try to prove, through lawsuits in court, you will have already lost time, money and without the certainty that you will have won the cause.
Not to mention that such an attitude can harm the relationship with your audience or client. In the first case, you can confuse them, because another company will be using the elements they are used to. And have you ever wondered if they use the competitor's service and like it?
And second, at least one image of slouch will pass on your part. After all, if you don't even take care of your brand, imagine your client. Isn't that right?
Just by not registering a brand you designer can lose credibility, reach, audience and money.
For all this, and other countless losses, that not registering a brand design can give you a lot of headache in the future.
Who must register a trademark?
If you are a designer or creative who created the brand for a customer, registration must be done by them. You can guide him, but he who must bear the costs.
Therefore, you Designer, is responsible for creating the logo, the visual identity, for develop a branding manual, among other tasks. Registration is with your client, of course always possible with your assistance nearby.
But your duty, as a shrewd professional you are, Galucho, is with copyright (we will talk next). This yes you should register as soon as the project is formed. And for that you can use the Avctoris service.
How to register a design trademark?
In Brazil, to register a brand you must use the service of the INPI - National Institute of Industrial Property. This record protects that protects your visual identity and the phoneme of the brand within your segment, that is, no other company in the same segment can make use of the elements that make up your brand.
How does INPI work
Companies and individuals (legal or natural beings) may apply for registration of a trademark in the PTO.
The registration is valid only in Brazil and lasts 10 years from the date of registration, being renewable for more periods of 10 years, with costs to renew.
How to register a trademark?
First you must register on the PTO website, perform a search to verify that there is already a trademark with the name you want.
After checking on other brands, you should know what type of brand classification, according to the parameters of the PTO, your identity belongs. If it is a Nominactive Mark, Figurative Mark, Mixed Mark, etc. You can learn more about brand types neste link.
You need to know the nature of your brand and whether it fits: product, service, collective brand, or certification brand. And not only the segment, but you should also know which market segment of your brand, because you will need to choose a class for it (product brand of the clothing segment, for example). You see more about here neste link
After checking all this information, you must complete a registration form. And as I mentioned, you designer can register a brand both as an individual and as an individual.
Once registered you will use this account created to access the PTO system throughout the process. You can have only one account per CNPJ or CPF.
After registration you can issue a GRU (union collection guide) corresponding to the trademark registration service.
All of that information mentioned in the previous step, you will use here.
The amounts may vary depending on the type of account holder, and the PTO offers discount for companies of type ME, MEI, EPP, Cooperatives, Non-profit associations, research and teaching institutions and also for individuals.
For individuals, for example, it is on average Of R $ 150. The value may also change if the collection is in person. The following is an infographic made by the PTO itself.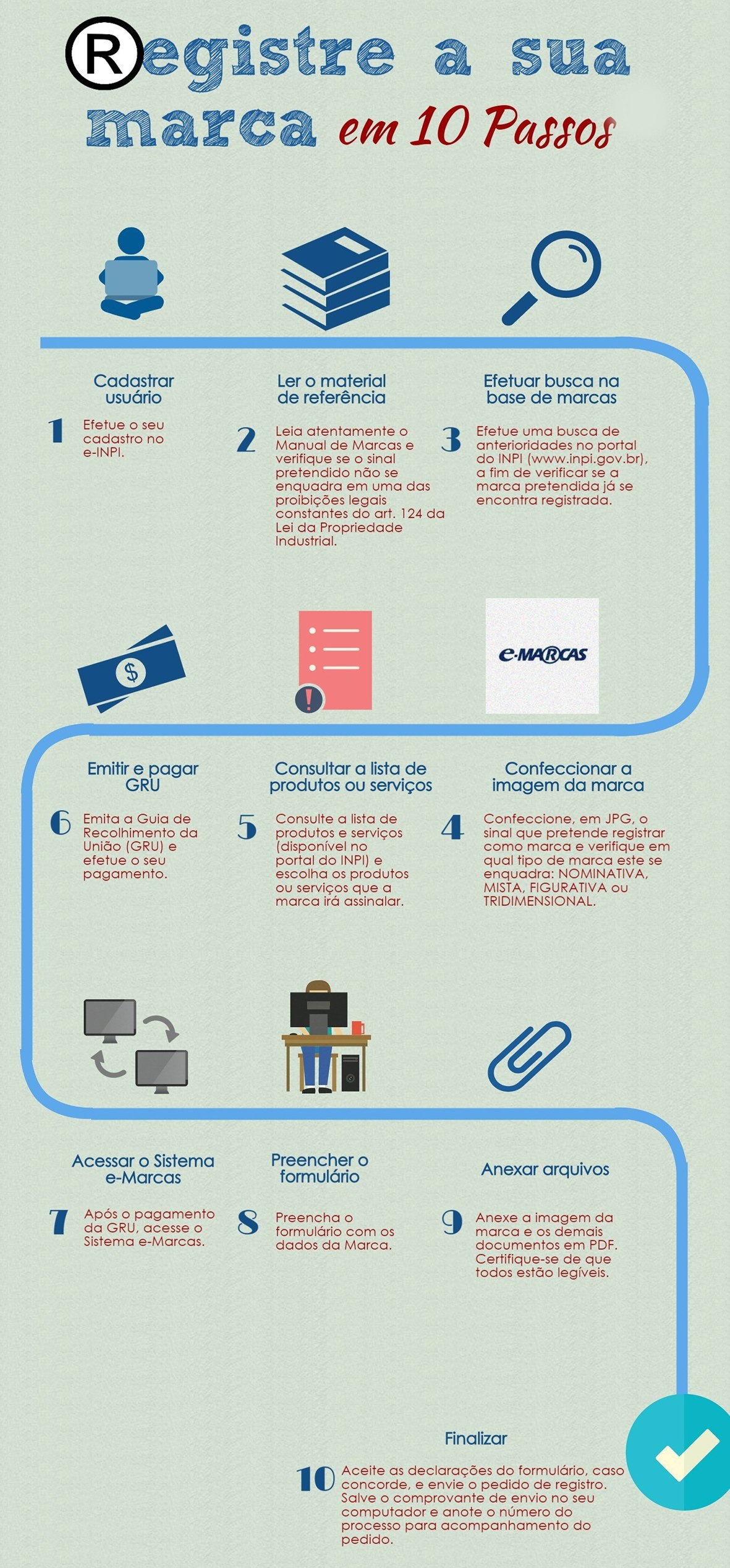 NOW ATTENTION!!!
You must keep the document number, which is located on the ticket itself. It is with this number that you will proceed with the registration.
After paying the GRU, you must return to the PTO website and choose the e-brands option. After logging in with your login and password (done in the previous step), you will use the GRU document number to continue.
Once this is done you will have access to a trademark registration form. There you will finish filling in the data depending on the type of brand, such as climbing the brand image, according to the pattern requested on the site, and also choosing a class for it.
Once this operation is complete, you can check the order before filing the submission. If everything is right, you confirm the shipment and the system will generate a screen for you to download the voucher in PDF, where you will find the process number for follow-up.
Your brand will go through a validation process and if it is approved you must pay another fee related to the decenio that has an average price between R $ 200 to R $ 400.
I'll leave a video below where you explain about this whole process.
How long does it take to register a design brand?
A trademark registration process can take more than 2 years to be analyzed by the PTO. I'm sure more than a year and a half is hard, you bet.
Once the review has been completed, the Office may defer or reject the proceedings. If it is granted, that is, approved, the holder of the registration has up to 60 days to pay the fees and carry out all the transmitting so that the trademark is finally registered for the next 10 years.
If the holder does not make the payments for concession the process is filed for non-payment. In this case the trademark is not registered and will be available again to anyone.
It is very important to be aware of the PTO website so as not to miss the deadline. The result of the process comes out in the electronic journal of the PTO and you receive an email warning about, but this email always falls into spam or trash, when not, nor arrives.
I recommend checking the process of registration of the brand on the PTO website from time to time not to miss the deadline.
Do I need to hire a company to register a trademark with INPI? (BEWARE OF FRAUD)
You don't have to. But they seem to do everything they can for you to hire.
It is boring and to some extent difficult to register a brand in Brazil. It seems that they make it difficult precisely for us to have to pay R$ 1000, R$2000, R$3000, R$4000, R$5000 to specialized offices. It is absurd in the 21st century that we have so much difficulty registering a brand.
And be smart about slips coming to your house. Some companies in the industry when identifying in the PTO system that you registered the trademark application, issue a ticket and send it to you as if you were the PTO. This is really absurd, because someone inattentive ends up paying the ticket thinking it is the PTO.
O INPI does not send slips For you.
Of course if you want, you can hire a specialized company, but it is not a requirement to register a brand design.
Also be aware of your email, as the scam may also come from it. PTO even sends e-mail, but only when the brand has been released for the payment of the deceino.
Next I will talk about a measure that you designer, freelancer and creative should take regardless of the registration of the brand in the PTO. Guarantee your copyright.
What is copyright?
Copyright is a set of laws created aimed at artistic, musical, literary, scientific creation, logos, layouts, etc.; with the aim of protecting such works, as well as the author's right of exclusivity to benefit from moral and economic rights of the work or to cede them to the exploitation of third parties.
Copyright in Brazil has been present since the constitution of 1891 and there are several types of rights related to the exploitation of works, either by the author or by third parties.
What is the difference between copyright registration and trademark registration?
Copyright is something inherent to the author, since trademark registration is a license before the government for whom no one commercially uses the same idea as yours. I'll leave you a video about the Owner of Avctoris. In it he clarifies these doubts.
Why secure my designer copyright?
It is very important that you register designer copyright in a brand. Regardless of the registration in the PTO, this record guarantees to you that you created the right mark on the creation.
Although not obligatory, this is an attitude that can rid you of headaches and people of bad faith.
There are other files that can prove your designer copyright, but most of them can be challenged before the law.
Below is an excerpt taken from the Avctoris website.
Copyright is declaratory, that is, it is not necessary or mandatory to request registration anywhere, the copyright is born together with the work, however, to facilitate the exercise of these rights the author (copyright) must have some kind of PROOF OF PRIORITY through which he declares himself author of the same and that can serve as evidence in case of future dispute;

This type of "registration" can be requested by the AUTHOR since naturally belongs to him since the "birth" of the work and only then it can be given to third parties, so it is a legitimate way of the designer / illustrator / publicist protect himself from the "bad customers", but much more over, it is a way to protect the "good customers" because he already delivers to the client a job with some level of protection, broad enough to be considered an important ADDED VALUE.

The copyrighted work is automatically valid in the 164 member countries of the BERN Convention, which regulates copyright internationally, all laws of the treaty member countries are subject to its general rules;

A copyrighted logo is not limited to a segment, product or service. Unauthorized use of a logo, even with different inscriptions *(name) is considered a fright, regardless of the segment. They can be completely different things like biscuits and tires, tour services and restaurants, whatever, unauthorized use is always on the other hand.

Copyright is divided into 2: Moral Rights, which are always the Author (individual, exclusively) and refer to the paternity (or maternity) of the work, the right to include it in its portfolio, to be cited and recognized as an author, etc... and Property Rights, which are related to the right of use, public execution, financial transactions, etc... These are the Holder,who may be the Author or may be temporarily transferred (license) or definitely (transfer) to third parties, including legal entities.

When protecting a logo, all your presentations, variations and even slogans/signatures can be included.
How much does it cost to register my Copyright? How long does it take to register?
Unlike trademark registration in the PTO, the copyright only pays R $ 19.97. Is that it?! And only once in a lifetime.
In normally in less than 24 hours your copyright will be protected in 173 countries, as the system is based on international treaties. And the technologies used are recognized by the judiciary in Brazil and abroad, forming solid and indisputable evidence!
How to register my Copyright?
To guarantee your copyright, just access this link (CLICK HERE)
Then go down the screen and click the "register now" button.
Then just click on the "I have read, understand and accept the terms described above".

And continue the registration in a simple and easy way until you finish the order.
So you will have access to a copyright certificate valid in 173 countries in less than 24 hours and for only R$ 19.90.
In case there are still doubts, below I leave a video I recorded to show the step by step of how you can make your registration the correct way. It's pretty simple. Check:
Conclusion
Regardless of trademark registration, the first thing you should do is secure your copyright. the avctoris is a safe company that guarantees it for you.
The registration value is very cheap and worth investing R $ 19.90 to avoid headaches. Register your copyright even before your customer registers the trademark in the PTO. Protect yourself. Click on this link and register your project's copyright.
And about the PTO the conclusion I have is that registering a brand in Brazil is tiring and delay, unfortunately. The system is bad and the service is slow. But it's a necessary evil. Whenever you can register the mark.
If you have the opportunity, talk to a lawyer who specializes in the field about these issues.
And have you ever registered a brand? Have you secured your copyright yet?
Strong hug.
Until later.