What? Td bele!
There are so many names and terminologies related to Design, which turns and moves we have to address about them in the channels of the Chief, on the web, to clarify the doubts of the Galuchos. The terminology of the time is the Design Digital.
If you act with creation and use the fundamentals of design you will see that Digital Design has a lot of similarity such as Graphic Design it's the Web Design.
And if you want to know more about the profession of Digital Designer, in this article you will find the main information about this profession and can thus decide if this path you want to follow professionally.
And in this article you will know:
What is Digital Design?

Digital Design is a segment of Visual Design in which the Designer designs functional solutions for screens of various devices.
In the way that the solutions become functional, in these screens, the professional of the area uses the application of specific concepts and techniques for the development of layout on canvases and the necessary design fundamentals.
It is understood that Digital Design has as a peculiarity to make the designed layouts work, in most cases, on devices of different sizes. Today in the market we have a variety of screen sizes ranging from Smartwatches screens, through smartphones and to Smart TVs.
Digital Design versus Graphic Design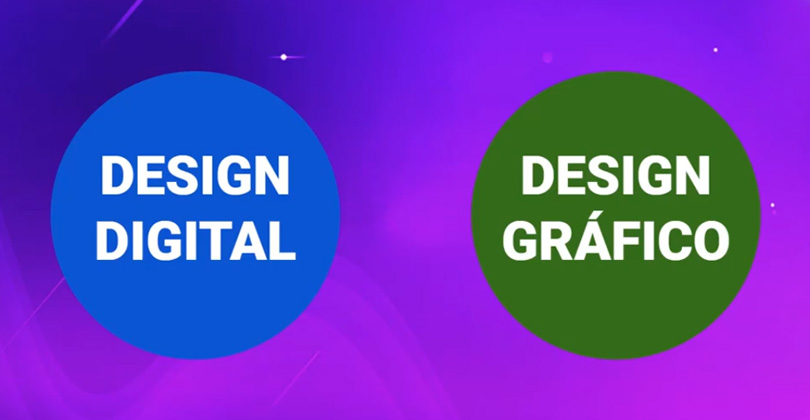 There is a lot of similarity between the Graphic Design and Digital Design, that's because they both use virtually the same fundamentals. What differentiates is where the fundamentals are applied, since each of them works on different "platforms". Thus, the Graphic Designer acts in graphic processes, printing and can even create digital parts. The Digital Designer is more specific for designing for device screens.
What makes a Digital Designer?
The Digital Designer is the professional specialized in visual programming who applies it in various digital media.
It uses resources such as images, texts and illustrations that are distributed harmoniously applying the design fundamentals necessary to express the communication objectives of the project.
With these resources at hand this professional plays an important role in tasks involving the planning and production of visual communication for:
Digital interfaces;
Animation/Motion Design;
eBooks;
Electronic publishing;
Games.
But you can also do:
Graphic parts;
UX,
Others.
Profile of a Digital Designer
Os desafios encontrados em áreas correlacionados do Design são muitos parecidos e geralmente são focados em soluções de problemas, e na maioria dos casos, relacionados a pessoas.
That is why I believe that the main characteristics that favor you to be a good Digital Designer are the willingness to learn, empathy and enjoy solving problems creatively.
But logically there are other features can indicate if you have the profile to act in the area. Among them stand out:
Like arts and cultural events – The bigger your repertoire, the more comprehensive visual elements, the more your creativity emerges and contributed to the composition of your projects. Therefore watching movies, going on exhibitions, reading books and magazines, and even analyzing the graphic composition of these can increase your repertoire.
Have good aesthetic sense – You need to know how to judge and decide not only what is beautiful, but also pleasing to the human senses.
Knowing how to express ideas through drawing – That doesn't mean you need to be an expert designer, that's not it. Just that with a few strokes you can sketch an idea.
Liking technology – Currently Design and technology go hand in hand. A Designer spends a good deal of time handling graphic software and researching references on the internet.
Know how to work in a team – You can even work independently as a freelancer, but anyway on many projects you will need to interact with professionals from other areas and teams to discuss planning and other issues.
Commitment to results – Committing to what has been agreed ensures that you deliver according to requirements and on time.
fundamental knowledge
In addition to you being able to deliver solutions that bring results to your customers, you need to have fundamental knowledge. I will present some of them dividing into two categories: the fundamentals and the tools.
Fundamentals:
I refer here to fundamentals such as proximity, alignment, unity, balance, shapes, ergonomics, semiotics, gestalt, color, typography, grids, diagramming, images, etc.
Tools:
Fundamental is also to master various software ranging from graphic editors, moving to video editors, to interface builders and code editors.
Destacamos o Photoshop, Illustrator, Corel Draw, InDesign, After Effects, Premiere, Figma, Adobe XD, Invision, Sketch e Sublime Text.
Job Market - Where a Digital Designer Works

Basically the Digital Designer works with Web Design, Design for APPs, Digital Animation, Information Design, Interaction Design, Video Editing, Social Media, Game Creation, among others.
The Digital Designer is requested by communication companies and industries from various sectors. He can work in both public, private and third sector institutions that require creating visual communication projects.
It can act in:
publicity agencies;
IT companies;
communication and marketing department of companies;
design offices and studios;
video and film producers, TV stations;
producers of games and animations;
startups;
companies that need visual programming in general.
He can also act as a freelance individual or legal entity.
How much does a Digital Designer earn?
According to the website Glassdoor, a platform that helps professionals find the ideal company and discover salaries in more than 100,000 companies, the salary of a Digital Designer is between R$ 5,000.00 and R$ 6,000.00.
But this value can vary because of factors such as the region, segment of the company, your experience, among others.
need a diploma to be Digital Designer? Do you need to have a college degree?
For a person to work as a Digital Designer is not required to have higher education, because the profession is not yet regulated.
Therefore, market experience and a good portfolio that proves that you are capable of performing the tasks inherent to the area, may be (usually are) more important and sufficient for you to act in the labor market.
Obviously a college degree will always have extra weight. Even if you want to know more about digital design faculty, I suggest researching the Quero Bolsa.
The Website Quero Bolsa offers scholarships with up to 75% in higher courses, technologist or bachelor,and postgraduate in design.

If you're going to get into college, first of all I strongly suggest you access the Quero Scholarship now and see if you don't have any scholarships in college that you want to get into. I used the Quero Bolsa myself and it was very useful in my time. Don't waste your time! CLICK HERE and learn more.
What other course options does the market offer me?
In addition to the Higher Course (Bachelor's and Technologist), the other options to learn about Digital Design are:
Free courses (face-to-face): short-term face-to-face courses;
Online courses: courses in EAD format, where you can study from home at a commonly cheaper price. Here in Chief of Design we own the Web Designer PRO course that despite the nomenclature, it offers an important grid concepts and techniques for those who want to act with Digital Design.
Technical Course;
Specialization Course, Graduate;
Master's degree.
Complementary material
For more details on the Digital Design area I will provide you with an extra vvideo material below.
Final considerations
The Digital Design area is a dynamic area that meets the most modern technologies making room for the professional to even venture into branches of design such as UX Design, UI Design, Web Design, Game Design just to name a few.
If you want to rely on a content source that covers fundamental knowledge of Digital Design, I point you to know the Web Designer PRO Course where you will be presented with important techniques and fundamentals for building interfaces for different devices.
⭐️Web Designer PRO course⭐️
Learn more ➡ https://www.webdesignercursos.com.br/
So that's it, Galucho! If you liked this article leave your like and share with your friends I have interest ?
Leave your opinion, doubt and / or experience in the area of Digital Design, in the comments below, bele? ?
Until later.
Strong hug.