Eae, everything is fine?
Do you know what SEO is? Do you know how important he is to the visibility of your business? You thought about learning about the topic and even considered making a SEO course?
If yes, or if not, stay with me because I will present to you very important points that may be off your radar on SEO, in addition to showing the best SEO Course, both in cost benefit and didactic material, that you can find on the internet.
If you don't stay with me, because I'll show you the importance of SEO and how it can be fundamental to your business, because paid traffic (the one that invests money in advertising) is useful yes, but it is not scalable and still holds you hostage to social networks that increasingly charge more expensive to receive simple ads.
What is SEO?
SEO stands for Search Engine Optimization, and relies on methods and studies to make your site visible to search engines.
When we work thinking about SEO we want our pages to achieve the best placements in search engine results, such as Google and Bing, when people search for relevant keywords on these sites. And mostly we think about being better positioned than the competition.
"Keywords" is the words and/or phrases that users type in the search box of search engines such as Google and Bing to find what they want.
Strategically you can position these words within your HTML document so that search engines can measure and find relevance and similarity between the terms searched in the queries and the HTML document.
The results that are desired through SEO are called organic and are represented in the image above in the area demarcated with color. The results you see in other areas are due to paid ads
Why is it important to learn about SEO?
Learning and applying SEO techniques and tactics is simply MEGA IMPORTANT if you have an online business, a website or simply want to improve your internet presence.
You know that saying that says, "Who is not seen is not remembered?"
This also applies to the internet.  i don't know if you know but according to Hubspot, 75% of users do not pass the first page of results the second page of Google search and only 1% access the third page.
Google is responsible for a GIANT portion of the volume of web searches. According to surveys, from Google itself, per year it receives more than 2 trillion searches are carried out.
And I don't know if you know about how to funnel sales, or if at least you've heard something like that, but improving the SEO of your site can directly interfere with your billing.
To learn more about SEO, you can check out this video below where Daniel Imamura talks about SEO. Check:
The importance of SEO within a Sales Funnel.
The sales funnel is a strategic model that shows the path that the customer makes from the first contact with your company, or product, until the completion of the sale, that is, you close a sale. Knowing this, you can create actions to drive or follow your customer's journey from the first moment of contact, with your company or product, where you discover what you offer, until the conclusion of the business, which would be the realization of a sale.
There are several things to talk about and we know that the buying process is not always something linear, quite the contrary. However, for the purpose of explaining to this article about the importance of an SEO course, know that there are 3 basic steps within the funnel, which are:
Top of the funnel:
This is the part where the customer discovers your product. He may or may not be looking for the subject when he first comes into contact with your product.
Middle of the funnel:
In the middle of the funnel the customer already understood the need and how his solution can solve his issue, and then he begins to consider a possible purchase.
Bottom of the funnel:
After all this journey, this is where the customer's purchase decision takes place and, consequently, the realization of the business.
But not all potential customers arriving in the sales funnel have actually become customers. Here is an example that Daniel Imamura, responsible for SEO course - Everest of Visits, on this sales funnel ratio:
In the image above we can see the number of hits at the top of the funnel. There are 10,000 visitors, but only 0.9% of this total have effectively become customers, totaling 90 sales.
Therefore, we can conclude that the more visitors you have, the higher your billing. And taking into account that, according to surveys, 68% of all organic search clicks go to the first three results, you must do everything to be at the top of SEO.
And we still have a chasm between the number of visits from the first placed to the third. Look at this print on the Chief of Design. Our article is first on Google for the term "what is design". Note the difference in visits we have compared to the third placed, I have almost 3x more visits than the third placed.
And you can even use ads to keep in first, the problem is that the investment in ads, to stay on top, never decreases, on the contrary, only gets more expensive in the medium and long term.  In contrast the investment in SEO is lower and over time it decreases while traffic only increases.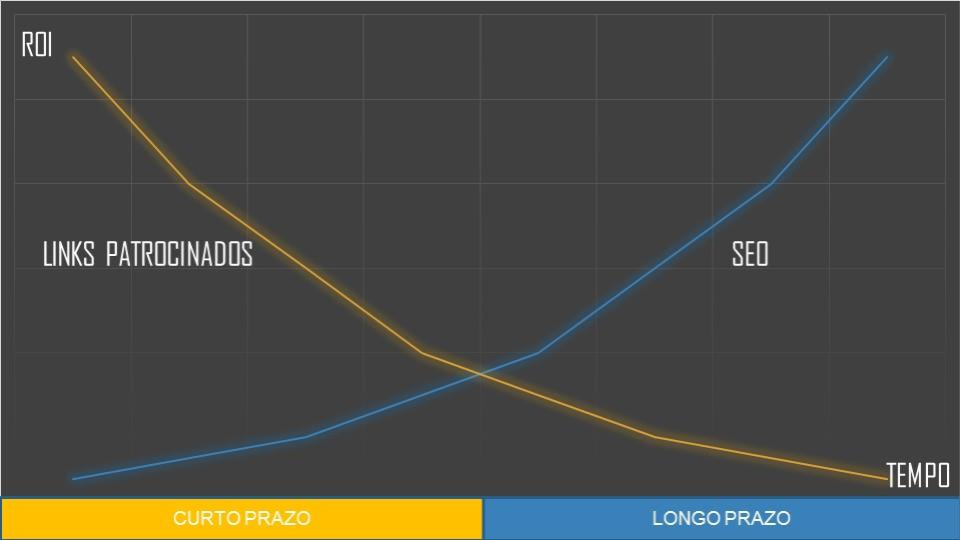 In addition to the issue of investments, there is also the quality of the visit. When the visitor is looking for something and finds you, he is already qualified because he is really looking for a solution to the problem he has. You don't have to show him, because he already knows.
In the case of sponsored links and other paid traffic options, you largely need to present to the user the opportunity and how good your product or service is and what can help you. You have more effort and also end up spending more money on people who have nothing to see, who have not bought your product.
So the best way to balance traffic and investment, performing better and better over time is to learn! You need to get SEO knowledge and generate organic visits for your business and for this you can start by taking an online SEO course.
Next I'll show you the way of the stones for you to learn SEO and generate visits to your site.
SEO Course - Everest of Visits
As we have seen, SEO is something fundamental to the digital life of your business. Everyone is on the internet and you can not miss visits and mainly closing deals and opportunities because of traffic.
Investing in SEO is investing in the health of your business. And as you know, knowledge is power, which is why I point out the SEO Course – Everest of Visits.
Learn from those who actually do SEO and generate real results every day. Search Google for 'Site Optimization' or 'SEO Consulting' and see that the company, DIGITAL CONSULTING, is the first in search results. Daniel Imamura is an SEO teacher at Digital House school, as well as CEO of the AGENCY CONSULTORIA DIGITAL, which specializes in SEO.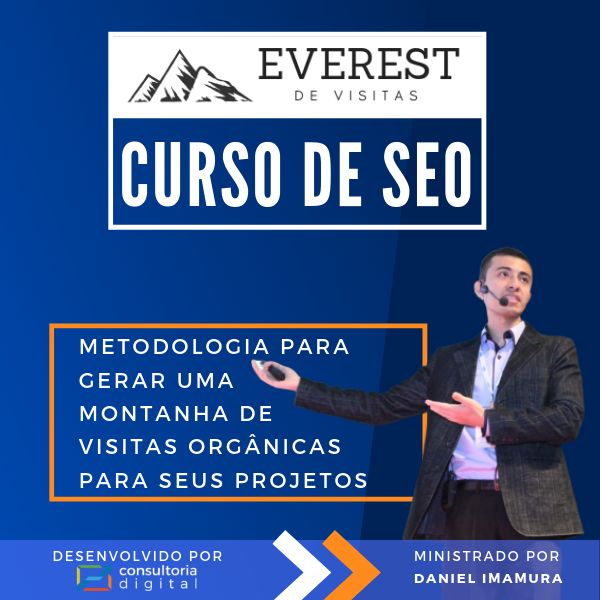 In this SEO course, Daniel Imamura, SEO specialist for more than 9 years and CEO of the DIGITAL CONSULTING agency, will teach you his methodology that has already been applied and tested on sites such as Pontofrio, Casas Bahia, Extra, InfoMoney, Portal Solar and hundreds of other sites, generating real organic results.
You'll learn a full walkthrough from planning your SEO project, keyword survey, analysis and reporting templates, and more. These are practical classes so you can start applying from the first lesson. Currently, Daniel Imamura is a SEO teacher at Digital House School.
Who is the SEO - Everest Of Visits Course indicated for?
The SEO - Everest of Visits course is indicated for people who:
want to increase organic visits on your site;
aim to increase site traffic to sell more;
wish to learn, even if they are at absolute zero, about the SEO area;
seek to bring organic and qualified traffic to your site;
who have already had some initial contact, but who want and need to learn
more about SEO to achieve your goals online;
who have studied or know 'SEO techniques' but who need to be
update not to fall behind the competition.
Advantages of the Online SEO Course - Everest of Visits.
Course done by those who know and do – Daniel Imamura is a great SEO specialist and has several successful cases working with optimization for search engines.
Online Course - You take classes in the comfort of your home, in the times and days you want. You don't need to get around or get stuck at a time to learn.
Support - You can ask questions and learn from other students who are taking the SEO Course, in addition to the assistance of an Experienced Instructor
Exercises - After classes you will be able to apply the knowledge learned in exercises plus the help of checklists to help you in learning and practicing the concepts and good practices of SEO.
Experienced Instructor - Ludy Amano, instructor of the Free Online SEO Course, has over 10 years of experience in Digital Marketing
Certificate of Completion - At the end of the course you will receive the certificate of completion. This is proof that you've completed the entire course grade, and it's an excellent skill for you to add to your Linkedin resume or profile.
What I'm going to learn in the Online SEO Course – Visit Everest.
The Course is formed by the curriculum matrix:
Introduction - Understanding the structure of the course and Leveling knowledge
Analysis and Planning
Current Scenario Analysis
Setting goals for an SEO project
Planning Checklist
Action Plan
Checklist de Validação de Problemas Graves para SEO
Pesquisa de Palavras-chave e Estratégias de Priorização
Checklist – Revisão do Planejamento e Plano de Ação
Full SEO Analysis - Step by Step
Validação do Estado Atua
Análise da Oferta
Otimização On-Page
Otimização de Conteúdo
Planejamento do ConteúdoLinkagem InternaLink Building – IntroduçãoLink Building – Estratégias para ganhar backlinks de qualidade
Orientações Finais da Análise + Dicas de Gestão da Implementação das Melhorias
Measurement of Results
Conta de Demonstração do Google Analytics Relatórios sobre Público-Alvo
Relatórios sobre Aquisição
Relatórios sobre Comportamento
Relatórios sobre Conversões
Troubleshooting
Introdução a Resolução de Problemas
Migração de Sites e Trocas de Plataforma
Sitemap.xml
Advanced StrategiesMVP
Mindset de SEO
Comandos Avançados de Pesquisa no Google
Como melhorar a Usabilidade da Página – UX
General Course Review
Unconditional Guarantee of the SEO Course - Everest of Visits?
The SEO Course has a 30-day warranty to keep you safe about what you are purchasing.
The Warranty Term is the period you have to request the full refund of the amount paid for your purchase, if you think the SEO course is not for you.
To do this just send an email to the course team that they took the necessary actions. No hard feelings and no red tape.
After that, your refund will be processed automatically by the Hotmart payment platform.
Final Considerations: Is it worth purchasing the SEO Course - Everest of Visits?
The Chief of Design only has the accesses it has, the reputation and authority in its segment thanks to our work in SEO. More than 70% of our website visits come through SEO.
Organic traffic is the best there is for your business, as it
There is no magic formula or recipe for killer cake for this, but there is the possibility of acquiring knowledge and doing a great job so that your site and business receive more traffic, thus generating more opportunities.
The SEO Course – Everest of Visits is taught by Daniel Imamura, my friend who teaches classes at Digital House, an innovation school whose director is the famous Interney, along with me. And it is rare that you find courses of people of his caliber, who work effectively in the market and who have effective results to show.
That's why I'm super inpointing the online SEO course – Everest of Visits.
And before you finish, of course, don't forget to know the online SEO – Everest of Visits course.  Go to the site and ask all your questions regarding the course.
Also leave your comment below about your SEO experience.
Strong hug.
Until later.